Fall 2011

- Vincenti Decoys launches its new web site offering upper bay style decoys carved by Pat Vincenti, Decoy Carving Supplies, Ronan Decoy Paints, Vintage Waterfowl Accessories, and Chesapeake Bay Collectible Decoys.

Call or Visit Vincenti Decoys retail store in Havre de Grace for all of your decoy carving supplies and collectible needs.



Vincenti Decoys offers an appraisal service for anyone wishing to access a market value for their decoy collections, antique guns, waterfowl and maritime artifacts. 
Contact the office for more information about obtaining appraisals by clicking on the appraisal link below.



Join our mailing list to keep up to date with the latest in decoy carving and collecting news, new carving supplies, and special offers from Vincenti Decoys.

Get started today by clicking on the link below and signing up.




Vincenti Decoys Retail Store
353 Pennington Avenue
Havre de Grace, Maryland 21078   
Phone: 410-734-7709
Vincenti Decoys Shop / Office
303 West Lane
Churchville, Maryland 21028
Phone: 410-734-6238



Browse our links & resources page for more information on products we use and companies we support.


Chesapeake Bay Collectible Decoys - Vintage Waterfowl Accessories - Decoy Carving Supplies - Ronan Decoy Paints - Vincenti Decoys - Upper Chesapeake Bay Style Decoys
Ronan Decoy Paints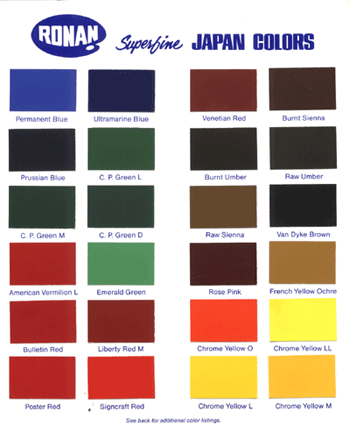 Ronan Paints
is the oldest manufacturer of Japan Colors in the U.S., these pure colors are used for a variety of decorative applications such as: Lettering, Striping, Stenciling, Glazing, Antiquing, Graining and Staining, as well as for tinting flat paints where control of Iustre is desired. These flat quick drying colors are superior to any Japan Colors on the market and excel in purity, tone uniformity, strength and fineness of grind.


Japan Colors
are finely ground, lead free, flat, quick drying, paste colors. This traditional product has a wide range of graphic and professional artist uses. Used by furniture and cabinet refinishers for a variety of decorative applications. Used extensively by specialty painters and scenic artists for aging, faux finishes, marbleizing and glazing. Used to make stains or glazes for wet-in-wet techniques to create artistic effects, including but not limited to, dirt, age, smoke damage and simulated marble and wood grain. They are ideal toners for flat paints. Also used for lettering, striping and stenciling. If using on exterior surfaces consult our technical department for recommendations on protective overcoats.
Dry Time:
@70 F; 50% Relative Humidity: Dries to touch - 1 hour; to handle: 2 hours; to recoat - 8 hours. Full cure - 24 hours. Will take longer to dry under colder or more humid conditions.
Application Methods:
Apply by brush, roller or spray.
All colors are Lead Free
In addition to the colors shown, Ronan Paints Superfine Japan Colors are available in:
Dropblack C., French Zinc White, Refined Lampblack, Permanent Striping White, Solid Covering Lampblack, Cobalt Blue , Flake White and Bulletin Blue.
Ronan Paints Superfine Colors Price List:
Colors

Quart

1/2 Pint

American Vermilion

$39.45

$16.90

Permanent Blue

$36.95

$15.90

Bulletin Blue

$36.95

$15.90

Permanent Striping White (Straight White/White)

$39.85

$17.10

Bulletin Red

$39.45

$15.80

Poster Red

$39.45

$16.90

Burnt Sienna

$31.05

$13.40

Prussian Blue

$37.65

$16.20

Burnt Umber

$31.05

$13.40

Raw Sienna

$31.05

$13.40

C.P. Green

$41.05

$17.60

Raw Umber

$31.05

$13.40

Chrome Yellow - LL, L, M

$48.05

$20.90

Refined Lampblack (Tinting)

$33.85

$14.60

Chrome Yellow - O

$48.65

$20.90

Rose Pink

$43.95

$18.90

Cobalt Blue

$46.35

$19.90

Signcraft Red

$39.45

$16.90

Drop Black C (Warm Black/Brown)

$32.45

$14.00

Solid Covering Lampblack (True Black)

$33.85

$14.60

Emerald Green

$42.65

$18.30

Turkey Red

$39.45

$16.90

Flake White (Graining Applications)

$35.15

$15.10

Ultramarine Blue

$46.35

$19.90

French Zinc White (tinting)

$39.85

$17.10

Van Dyke Brown

$32.05

$13.80

French Yellow Ochre

$31.05

$13.40

Venetian Red

$31.05

$13.40

Liberty Red - M

$39.45

$16.90