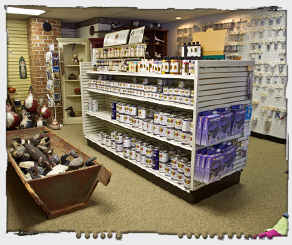 Ronan Paints Super Fine Japan Color (Lead Free)

Jo Sonya Paints Acrylics and Mediums

Knott's Knives

Fine assortment of quality paint brushes

Basswood and Cork

Foredom Tools and Accessories

Cutouts, Blanks and Kits

Detail Master Wood Burners

How to Books

Manzanita wood for habitat

Coffee table books

Basswood - Kiln dried FAS #1 Basswood available in sizes from 8/4 to 16/4 and when available 20/4. Random widths and lengths.
Cork - Offering sheets of cork that measure 25" x 37" available in 4" and 5" thickness.
Cork Kits - Available in all species. Includes head, body, eyes, wooden keel and directions.
Basswood Cut Outs - Full size basswood cut outs from kiln dried FAS #1 Basswood.
Machine Turned Blanks - Detailed Tupelo machine turned blanks by Jeff Moore. Ducks and songbirds. Great start to your decorative carving.
Basswood Veneer - Available by the piece or pack of 15 in 3/32" x 3" x 24" or 1/32" x 3" x 24". Used for making inserted tail feathers.
Knotts Knives - Quality knives available in sizes #2, #4, #6 and #8. Also in stock 5" and 8" inch Draw Knives.
Vincenti Knives - This is a handmade carving knife made from quality steel in the same tradition that Upper Chesapeake Bay Carver's have used for many years. Handles are made from English Walnut.
Chisels & Gouges - American made wood chisels, 5 in a set.
Detail Master - One of the finest wood burning tools on the market today. We handle the Dagger 50 watt unit, Saber 100 watt unit, and the Excalibur 100 watt unit with dual burning pens. We also carry the regular and vented hand pieces.
Foredom - Flexible Shaft Power Tools and a Complete Line of Accessories. BRAND NEW - Typhoon Burs.
Carbide Cutters - Kutzall sanding burrs, works great on woods, rubber and plastics. Silver Kutzall Burrs are standard for most applications where fast cutting is important. Gold Kutzall Burrs are for applications where a smooth sanded appearance is desired.
Ruby & Diamond Cutters - All shapes and sizes, available in 3/32" shaft.
Hot Tool - The ultimate creative wood burner. An inexpensive way to get started. This unity also offers replaceable tips and Dial Temp temperature controller.
Optivisor - Optical glass binocular magnifier. Also available interchangeable lens plates #3, #4 and #5 for various degrees of magnification.
Opti Loupe - Attaches to either side of optivisor to add extra power up to 6X magnification.
Quality Glass Eyes - Available in clear, black, amber. Baked on enameled back/scratch and chemical resistant, available in brown, yellow and red.
Precast Feet - A full line of wire reinforced pewter bird and duck feet.
Thumb Guards - hand crafted leather thumb and finger protectors, available small, medium, large and jumbo.
Epoxy Bond - Two part putty, can be used for many types of repairs, especially good for setting eyes.
Apoxie Sculpt - Self hardening two part modeling and repair compound. Offers strength waterproof performance, great for setting eyes and feet.
Devcon 5 Minute Epoxy - Fast drying two part Epoxy all purpose, works best on metal, wood, concrete, glass, china and ceramics.
Krylon - Spray finish available in Matte, #1311 or Crystal Clear Gloss #1301. Also workable Fix-It for Art Work.
Deft - Clear lacquer finish, available in Gloss and Semi-Gloss. Spray cans or quarts.
Manzanita Root - This unique wood burl is great for creating a natural looking habitat to mount those special carvings on. We have 7 assorted sizes from chips to X-large.
Famo Woods - Famoglaze - The #1 professional wood filler, fills holes and cracks quickly, dries rapidly with no noticeable shrinkage, sands easily and is waterproof.
Famo Solvent - Used to keep Famoglaze in top working condition.
Paint - T. J. Ronan Super Fine Japan Colors. Used for lettering, striping, stenciling and glazing. Flat quick drying colors are superior to any Japan Colors on the market and excel in purity, tone, uniformity and strength. Available in 33 lead free colors.
Chromas Jo Sonja Acrylic - We carry a complete line of Jo Sonja's artist and carvers colors available in 2.5oz. tubes and most available in convenient 8oz. bottles. We also carry all Jo Sonja mediums including varnishes, gessoes and woodstains.
Grumbacher - Pre-tested oil colors.
Paasche - Air brushes H-set of HS-set single action air brush kit as well as attachment and replacement.
Brushes - These are a sampling of the major manufacturers lines we have in stock: Grumbacher, Langnickel, Loew-Cornell, Royal, Robert Simmons, Winsor Newton.
Briwax - A blend of beeswax and carnuba wax that gives a natural sheen to bare wood or improves any finish cleans and protects all wood, tile, metal, marble and leather. The Craftsman Choice!
Finish Feeder - The original and only genuine feeder polish for all wood furniture and paneled walls. Cleans feeds and beeswax's.
Books - A full selection of how to instructional books as well as full color reference books. Appealing to both the carver and the collector. We also offer a nice assortment of great coffee table books, which include topics on turkey, trout, ducks, shorebirds and waterbirds.