Fall 2011

- Vincenti Decoys launches its new web site offering upper bay style decoys carved by Pat Vincenti, Decoy Carving Supplies, Ronan Decoy Paints, Vintage Waterfowl Accessories, and Chesapeake Bay Collectible Decoys.

Call or Visit Vincenti Decoys retail store in Havre de Grace for all of your decoy carving supplies and collectible needs.



Vincenti Decoys offers an appraisal service for anyone wishing to access a market value for their decoy collections, antique guns, waterfowl and maritime artifacts. 
Contact the office for more information about obtaining appraisals by clicking on the appraisal link below.



Join our mailing list to keep up to date with the latest in decoy carving and collecting news, new carving supplies, and special offers from Vincenti Decoys.

Get started today by clicking on the link below and signing up.




Vincenti Decoys Retail Store
353 Pennington Avenue
Havre de Grace, Maryland 21078   
Phone: 410-734-7709
Vincenti Decoys Shop / Office
303 West Lane
Churchville, Maryland 21028
Phone: 410-734-6238



Browse our links & resources page for more information on products we use and companies we support.


Chesapeake Bay Collectible Decoys - Vintage Waterfowl Accessories - Decoy Carving Supplies - Ronan Decoy Paints - Vincenti Decoys - Upper Chesapeake Bay Style Decoys
Vincenti Decoys New Inventory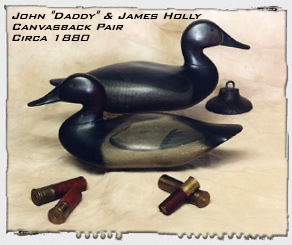 Vincenti Decoys  always has a large inventory of classic Susquehanna Flats and Chesapeake Bay area decoys by many famed carvers such as John (Daddy) Holly, John Graham, Sam Barnes, Will Heverin, Madison Mitchell, Scott Jackson, Charles Barnard, Henry Lockard, Bob Mcgaw, Lem and Steve Ward, Elliott Bros., and many more. Our inventory comes and goes daily, so please call or email us when you are searching for that special vintage decoy. We have decoys for all collectors beginning or advanced, decoys in Original Paint as well as Old Working Repaints.

Check back often for additions to our New Inventory page.

Vincenti Decoys is a Destination Shop... Make it Yours!
Miniature Mallard Pair by Ward Bros.
1958 Ward Bros. Miniature Mallard PAIR, Raised Primaries,  Balsa Wood, Original Paint, Very Good Condition, Signed and Dated 1958   Pair
$1,800.00
Black Duck Pair by Dave Blackiston
Dave Blackiston, Chestertown Md.,  Black Duck Pair, Original Paint, Excellent Condition, Flat Bottom Decorative, Signed and Dated 2003.   Pair
$1,050.00
Canvasback Drake by Ward Bros.
Ward Bros. 1948 Style Canvasback drake, Hollow Carved Pine Body, Original Paint , Excellent Condition,  Signed and Dated 1969.
$ 3,200.00
Red Breasted Mergaser Pair by Oliver Lawson
Red Breasted Merganser Pair by Oliver Lawson, Crisfield MD, Signed and Dated 1987, Excellent Condition, Original Paint PAIR, Antique Hunting Style.
$1,500.00
Canvasback Hen by Scott Jackson
Scott Jackson, Charlestown MD., Rare Canvasback Hen circa 1920's,   Old working repaint by Jackson, Good condition, Branded "JH" for John Hanson. Small tight check in the neck and a small check in her bottom side. Some wear on the tail from actual use.
$1,100.00
Canvasback Drake by Charles Barnard
Havre de Grace, Md. c1920's second paint by Barnard, excellent condition.
$2,500.00
---
Red Head Drake by Will Heverin
Charlestown, Md. c1900, Original Paint, Excellent Condition, Branded P.K.Barnes.
$1,800.00
***SOLD***

Canvasback Drake by Ben Dye
***SOLD***
Perryville, Md. c1890's , repaint by Holly, Excellent condition, detailed bill carving.
***SOLD***

$1,600.00
***SOLD***
Blue Bill Drake by Joe Dye
Havre de Grace, Md. c1920's, repaint by Dye, excellent condition.
$2,200.00
Canvasback Drake by Bob McGaw
Havre de Grace, Md. c1920's, Original Paint, Excellent condition, Branded JP
$3,200.00
Canvasback Pair by Madison Mitchell
Havre de Grace, Md. c1960's, Original Paint, Excellent Condition
PAIR $675.00
Canvasback Pair by Charles Barnard
Havre de Grace, Md. c1900, Original Paint, Good Condition, Iron Keels.
$4,500.00